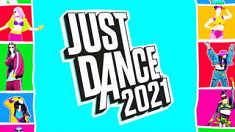 Dance to hot new tracks and family favorites including, "Dance Monkey" by Tones And I, "Juice" by Lizzo, "all the good girls go to hell" by Billie Eilish and more! Dance to over +550 songs!
● Dance the way you like by creating your own personalized custom playlists.
● Enjoy eight new kid-friendly songs and choreographies for a family-fun experience.
● Use your smartphone to track moves with the Just Dance Controller app – no additional accessories required! Up to six players can join!
● Play with friends and share the fun with co-op mode. Work together to get the highest score!
Read More