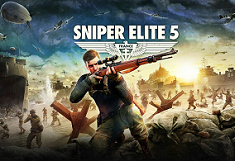 The latest instalment in the award-winning series, Sniper Elite 5 offers unparalleled sniping, tactical third-person combat and an enhanced kill cam. Fight your way across the most immersive maps yet, with many real-world locations captured in stunning detail, and an improved traversal system that lets you explore more of them than ever before.
● Many real-world locations have been captured using photogrammetry to recreate a living, immersive environment, and multiple infiltration and extraction points and kill list targets provide a whole new perspective on each mission.
● Use ziplines, slide down slopes and shimmy along ledges to reach the perfect vantage point, or to sneak past a sharp-eyed lookout.
● Use workbenches to customise and upgrade virtually every aspect of your weapon – change scopes, stocks, barrels, magazines and more. Rifles, secondaries and pistols all have a huge variety of options.
● Invade another player's Campaign as an Axis sniper and engage in a deadly game of cat and mouse, providing a new dimension to the challenge as you stalk your prey.
● Customise your character and loadout and earn XP, medals and ribbons as you take on intensely competitive 16 player battles that will really test your sharpshooting skills.
● More realistic and grisly than ever, the trademark X-ray kill cam returns, showing you the true destructive power of each shot.
Read More